So many yummies today! I'm excited and stomping my feet at the same time - because I'm glad they are finally out but BUMMED because I have to wait for my library to get them. If you could see me right now, I'd be pouting. Enjoy the list!
Megan Shepherd was "born" into the book world, growing up in her parents' independent bookstore in Western North Carolina. She is the author of THE MADMAN'S DAUGHTER trilogy (Balzer+Bray/2013), and THE CAGE trilogy (Balzer+Bray/2015). When Megan is not writing, she can usually be found horseback riding, day dreaming at coffee shops, or hiking in the beautiful Blue Ridge mountains. She is represented by Josh Adams at Adams Literary.
The Maze Runner
meets Scott Westerfeld in this gripping new series about teens held captive in a human zoo by an otherworldly race. From Megan Shepherd, the acclaimed author of
The Madman's Daughter
trilogy.
When Cora Mason wakes in a desert, she doesn't know where she is or who put her there. As she explores, she finds an impossible mix of environments—tundra next to desert, farm next to jungle, and a strangely empty town cobbled together from different cultures—all watched over by eerie black windows. And she isn't alone.
Four other teenagers have also been taken: a beautiful model, a tattooed smuggler, a secretive genius, and an army brat who seems to know too much about Cora's past. None of them have a clue as to what happened, and all of them have secrets. As the unlikely group struggles for leadership, they slowly start to trust each other. But when their mysterious jailer—a handsome young guard called Cassian—appears, they realize that their captivity is more terrifying than they could ever imagine: Their captors aren't from Earth. And they have taken the five teenagers for an otherworldly zoo—where the exhibits are humans.
As a forbidden attraction develops between Cora and Cassian, she realizes that her best chance of escape might be in the arms of her own jailer—though that would mean leaving the others behind. Can Cora manage to save herself and her companions? And if so . . . what world lies beyond the walls of their cage?
Not only is this from an amazing author, but the blurb sounds just wonderful. Also, whenever I see romance and forbidden I'm like... SOLD.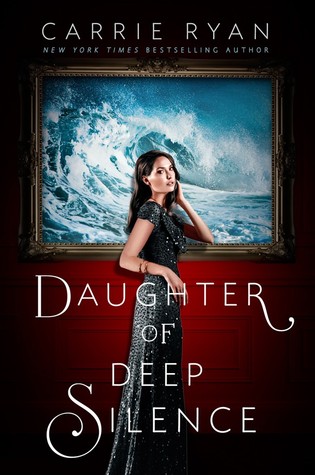 Title: Daughter of Deep Silence
Genre: YA Mystery/Thriller
Carrie Ryan is the New York Times bestselling author of the critically acclaimed Forest of Hands and Teeth series and Infinity Ring: Divide and Conquer. Currently she's working on a four book middle grade fantasy adventure series co-written with her husband, John Parke Davis, the first book of which, The Map to Everywhere, will be out November 4, 2014. Her next YA is a romantic thriller titled Daughter of Deep Silence which will be out summer 2015.
A former litigator, Carrie now writes full time and lives with her husband, two ornery cats and one gullible dog in Charlotte, North Carolina. You can find her online at
www.carrieryan.com
or @CarrieRyan.
I'm the daughter of murdered parents.
I'm the friend of a dead girl.
I'm the lover of my enemy.
And I will have my revenge.
In the wake of the devastating destruction of the luxury yacht
Persephone
, just three souls remain to tell its story—and two of them are lying. Only Frances Mace knows the terrifying truth, and she'll stop at nothing to avenge the murders of everyone she held dear. Even if it means taking down the boy she loves and possibly losing herself in the process.
Sharp and incisive,
Daughter of Deep Silence
by bestselling author Carrie Ryan is a deliciously smart revenge thriller that examines perceptions of identity, love, and the lengths to which one girl is willing to go when she thinks she has nothing to lose.
I think I will be stalking my library for this.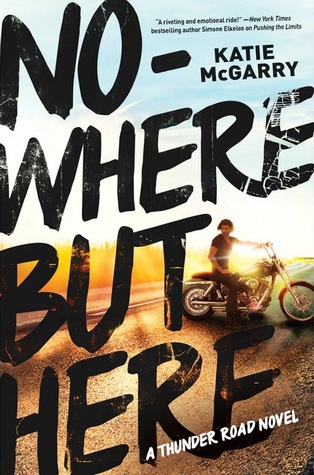 Genre: YA Contemporary Romance
KATIE MCGARRY was a teenager during the age of grunge and boy bands and remembers those years as the best and worst of her life. She is a lover of music, happy endings, and reality television, and is a secret University of Kentucky basketball fan.
Katie would love to hear from her readers. Contact her via her website, katielmcgarry.com, follow her on Twitter @KatieMcGarry, or become a fan on Facebook and Goodreads.
An unforgettable new series from acclaimed author Katie McGarry about taking risks, opening your heart and ending up in a place you never imagined possible.
Seventeen-year-old Emily likes her life the way it is: doting parents, good friends, good school in a safe neighborhood. Sure, she's curious about her biological father—the one who chose life in a motorcycle club, the Reign of Terror, over being a parent—but that doesn't mean she wants to be a part of his world. But when a reluctant visit turns to an extended summer vacation among relatives she never knew she had, one thing becomes clear: nothing is what it seems. Not the club, not her secret-keeping father and not Oz, a guy with suck-me-in blue eyes who can help her understand them both.
Oz wants one thing: to join the Reign of Terror. They're the good guys. They protect people. They're…family. And while Emily—the gorgeous and sheltered daughter of the club's most respected member—is in town, he's gonna prove it to her. So when her father asks him to keep her safe from a rival club with a score to settle, Oz knows it's his shot at his dream. What he doesn't count on is that Emily just might turn that dream upside down.
No one wants them to be together. But sometimes the right person is the one you least expect, and the road you fear the most is the one that leads you home.
I totally identify with the phrase here - "But sometimes the right person is the one you least expect". Sort of makes me tear up a little, because sometimes even though they are right, the other person can't stop believing they are wrong. Sadly, what other people think can become what we think.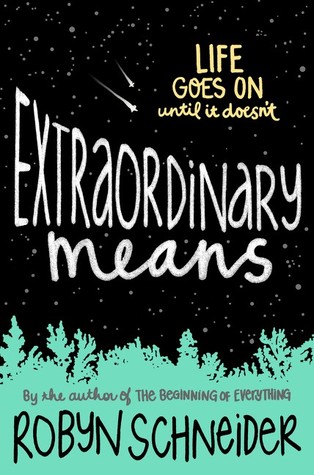 Title: Extraordinary Means
Genre: YA Contemporary Romance
Robyn Schneider is a writer, actor, and online personality who misspent her youth in a town coincidentally similar to Eastwood. Robyn is a graduate of Columbia University, where she studied creative writing, and the University of Pennsylvania School of Medicine, where she studied medical ethics. She is also the author of the middle grade Knightley Academy books, written as Violet Haberdasher. She lives in Los Angeles, California, but also on the internet. You can watch her vlogs at
youtube.com/robynisrarelyfunny
and follow her on Twitter, Tumblr, Facebook and Instagram.
From the author of The Beginning of Everything: two teens with a deadly disease fall in love on the brink of a cure.
At seventeen, overachieving Lane finds himself at Latham House, a sanatorium for teens suffering from an incurable strain of tuberculosis. Part hospital and part boarding school, Latham is a place of endless rules and confusing rituals, where it's easier to fail breakfast than it is to flunk French.
There, Lane encounters a girl he knew years ago. Instead of the shy loner he remembers, Sadie has transformed. At Latham, she is sarcastic, fearless, and utterly compelling. Her friends, a group of eccentric troublemakers, fascinate Lane, who has never stepped out of bounds his whole life. And as he gradually becomes one of them, Sadie shows him their secrets: how to steal internet, how to sneak into town, and how to disable the med sensors they must wear at all times.
But there are consequences to having secrets, particularly at Latham House. And as Lane and Sadie begin to fall in love and their group begins to fall sicker, their insular world threatens to come crashing down.
Told in alternating points of view,
Extraordinary Means
is a darkly funny story about doomed friendships, first love, and the rare miracle of second chances.
I love the disease epidemic in this one! I would love to see more YA books with that theme that isn't zombies.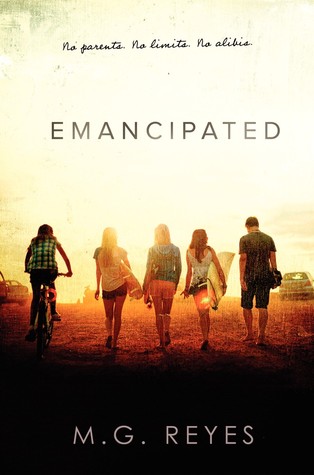 Genre: YA Contemporary Mystery
The good girl, the bad boy, the diva, the hustler, the rock star, and the nerd. Six teens legally liberated from parental control for six different reasons, all with one thing in common: something to hide.
Now they're sharing a house in Venice Beach, acting like a family, and living their lies. No parents. No limits. No alibis. One witnessed a crime, another might be a murderer—and one's been spying on them all.
As they cling to a fantasy of freedom and slowly let down their guards, the past creeps up on them. And when one of them gets arrested, everyone's carefully constructed facade comes crumbling down.
In this steamy, drama-filled series, relationships are tested and secrets revealed as lies threaten to destroy their perfect setup.
I am on a YA Mystery/Thriller kick. I just might have to check this one out.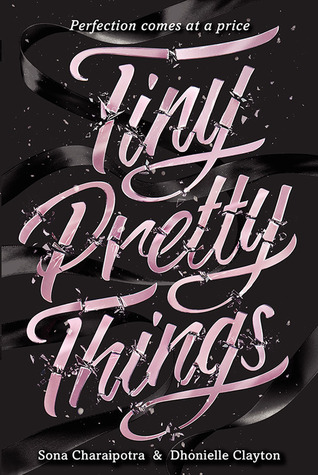 Title: Tiny Pretty Things
Genre: YA Contemporary Mystery
Sona Charaipotra is an entertainment and lifestyle journalist published by major media from the New York Times to TeenVogue. Sona received her MFA in Writing for Children from the New School. Thanks to a Masters in screenwriting from New York University (where her thesis project was developed for the screen by MTV Films), Sona is a strong believer that three-act structure can work in fiction, too. She is the co-founder of CAKE Literary, a boutique book development company with a decidedly diverse bent. Her first novel, TINY PRETTY THINGS (with co-author Dhonielle Clayton), hits shelves May 26, 2015, via HarperTeen. Find her on the web at SonaCharaipotra.com or CAKELiterary.com, or on Twitter: @sona_c
Black Swan
meets Pretty Little Liars in this soapy, drama-packed novel featuring diverse characters who will do anything to be the prima at their elite ballet school.
Gigi, Bette, and June, three top students at an exclusive Manhattan ballet school, have seen their fair share of drama. Free-spirited new girl Gigi just wants to dance—but the very act might kill her. Privileged New Yorker Bette's desire to escape the shadow of her ballet star sister brings out a dangerous edge in her. And perfectionist June needs to land a lead role this year or her controlling mother will put an end to her dancing dreams forever. When every dancer is both friend and foe, the girls will sacrifice, manipulate, and backstab to be the best of the best.
I admit. I watched Pretty Little Liars.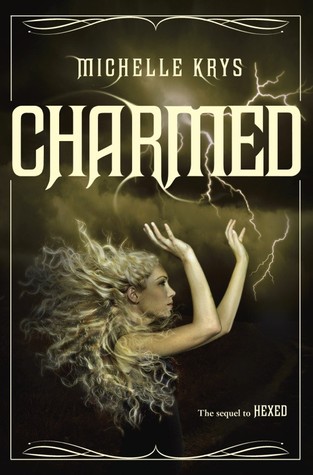 Title: Charmed (The Witch Hunter #2)
Author: Michelle Krys
Genre: YA Paranormal with Witches
Number of Pages: 368
Release Date: TODAY!
Indie has spent the last few weeks frantically searching for Paige. She's tried every spell imaginable, but witchcraft has gotten her nowhere, and she's going crazy with guilt. Despite what her warlock boyfriend, Bishop, tells her, Indie knows it's her fault her best friend was kidnapped by the Priory. And with the Priory destroyed, finding Paige feels more hopeless than ever-especially when Indie discovers that Paige isn't even on Earth. She's trapped in Los Demonios, an alternate dimension of Los Angeles filled with evil paranormals. No one who has gone there has ever come out.

Fueled by terror and loyalty, Indie is desperate to find a way into the underworld prison. She'll worry about getting out later. But facing the dark world's most dangerous witches and warlocks on her own means keeping her plan hush-hush-and forging alliances with some sketchy people, including a seriously sexy sorcerer.

Sometimes a witch must keep secrets from the people she cares about most. And sometimes she isn't the only one with secrets…
And now I'm growling because I'm still waiting for the FIRST one from my library.
Title: The Death Code (The Murder Complex #2)
Author: Lindsay Cummings
Genre: YA Dystopian Science Fiction
Number of Pages: 499
Release Date: TODAY!
About the Author:
Lindsay Cummings is the 24-year-old author of THE MURDER COMPLEX series from Greenwillow Books/HarperCollins, and the MG trilogy THE BALANCE KEEPERS, from Katherine Tegen Books/HarperCollins.
Lindsay deals with chronic fatigue, can't get enough of her two pesky German Shepherds, wolf cub, and two horses. She's still waiting on her letter from Hogwarts--it was probably just lost in the mail. You can follow Lindsay on twitter @authorlindsayc
Fanmail Address: PO BOX 1327, Celina TX 75009
With short, fast-paced, alternating point-of-view chapters,
The Death Code
starts several weeks after
The Murder Complex
ended. Zephyr keeps the secret about Meadow close—that if she dies, The Murder Complex will be destroyed, too. Meadow, desperate to find her brother, father, and little sister, is determined to fearlessly fight to the end, even if it means sacrificing herself and her friends, new and old.
The Death Code
introduces a memorable cast of secondary characters and delivers a vivid and scary thrill ride read.
And I'm JUST about to get the first one from my library. FML.
Cover Reveal!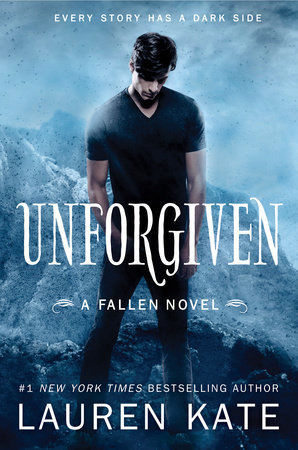 Title: Unforgiven (Fallen #5)
Genre: YA Paranormal Urban Fantasy
Release Date:
November 10th 2015 by Delacorte Press
It's the book FALLEN fans have been waiting for: Cam's story, the brooding, bad-boy dark angel readers love.
High school can be hell.
Cam knows what it's like to be haunted. He's spent more time in Hell than any angel ever should. And his freshest Hell is high school, where Lilith, the girl he can't stop loving, is serving out a punishment for his crimes.
Cam made a bet with Lucifer: he has fifteen days to convince the only girl who really matters to him to love him again. If he succeeds, Lilith will be allowed back into the world, and they can live their lives together. But if he fails…there's a special place in Hell just for him.
Tick-tock.
Spread your wings and cry as bad boy dark angel Cam finally reveals his anguished heart in the epic new FALLEN novel, UNFORGIVEN.
That's all folks ;) Enjoy reading! Which ones of these are on YOUR to-read list?