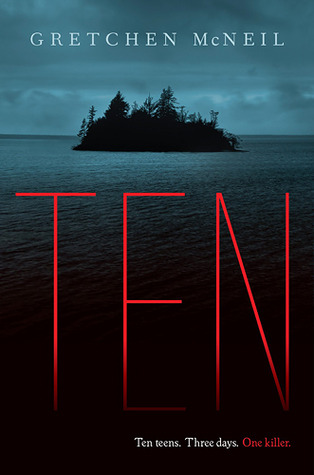 Teaser:
"Ten teens. Three days. One killer."
Genre:
YA Contemporary Horror/Thriller
Released:
September 18th, 2012 by Balzer + Bray
SHHHH!
Don't spread the word!
Three-day weekend. Party at White Rock House on Henry Island.
You do NOT want to miss it.
It was supposed to be the weekend of their lives—an exclusive house party on Henry Island. Best friends Meg and Minnie each have their reasons for being there (which involve T.J., the school's most eligible bachelor) and look forward to three glorious days of boys, booze and fun-filled luxury.
But what they expect is definitely not what they get, and what starts out as fun turns dark and twisted after the discovery of a DVD with a sinister message:
Vengeance is mine.
Suddenly people are dying, and with a storm raging, the teens are cut off from the outside world. No electricity, no phones, no internet, and a ferry that isn't scheduled to return for two days. As the deaths become more violent and the teens turn on each other, can Meg find the killer before more people die? Or is the killer closer to her than she could ever imagine?
-There aren't too many YA Horror books with this type of Horror story. It's like a 'teen scream' movie, but in book form. Personally, I have a sweet spot for silly movies like those. So I loved that aspect.
-YA Horror. I love the genre! And this was YA Horror with a bunch of supernatural elements.
-The Who-Done-It reveal at the end actually surprised me!
-Portrayal of Bipolar bothered me a little bit. I feel like it somewhat fed into certain stereotypes. Not as bad as it could have been, but it still did.
-I like the genre, but the book is what it is. There isn't some hidden plot or need for sequels. It's a who-done-it horror 'flick' of a book. I liked that, but some people wouldn't.
Well, I guess first of all I will explain what I mean about the portrayal of Bipolar being a bit stereotypical. The main character's best friend has Bipolar, and goes through the whole book determined to 'keep her secret' as if being Bipolar is some big horrible thing. She is constantly expecting her best friend to all of a sudden 'go off' and lose her cool. She more than expects it. She waits for it to happen and somewhat treats the girl like a child.
Now, I get that things like this –can- happen with people that are Bipolar, but it isn't like you can't manage yourself in the face of difficult situations ever. This book made it seem like if something bad happened, the bipolar girl freaked out. It also made the Bipolar girl actually kind of annoying. I didn't like her. Although I know this happens, I would like to see a less stereotypical betrayal of Bipolar, but instead one where the girl shows that people with Bipolar are NORMAL.
One good thing the author included in this is that the main character was reflective on the fact that she was holding her friend back. I was waiting for her to realize that the whole book. Her constant babying was in a lot of ways more for her than her friend, for when her friend didn't need it the main character got a little upset.
Okay. Done with that. As for the plot? It is straight forward and unexpected. I really didn't know who was going to die next. I actually thought that because it was YA that all the people that were being killed off would suddenly be all alive in the end, like it was some joke. I couldn't believe that a YA book would kill off people in so many ways. It was great to see, actually. I would love to see more YA Horror books like this. The plot itself goes by quick, so the read is also. Nothing amazing or extravagant, just a good quick read.
There is a bit of a romance in the book, which I actually enjoyed. It was realistic and had a history to it that was explained as you read along. And a big plus – it was a biracial relationship. More diversity in YA!
J
Despite the fact that I loved the genre, love a quick read now and then, and enjoyed the book… I am giving this 3 wands just because I NEED a book that plays those with Bipolar in a better light.
-Those who enjoy YA Horror or silly horror movies.
-Those who need a 'breath' between heavy books.
-Those who hate straightforward books and can't accept them for what they are.
Gretchen McNeil is the author of the standalone YA horror novels POSSESS, TEN (2013 YALSA Top Ten Quick Pick for Reluctant Young Adult Readers, a
Romantic Times
Top Pick, a Booklist Top Ten Horror Fiction for Youth, a finalist for Washington state's 2015 Evergreen Young Adult Book Award and Vermont's 2014-2015 Green Mountain Book Award, and was nominated for "Best Young Adult Contemporary Novel of 2012
″
by
Romantic Times
) and 3:59, as well as GET EVEN and GET DIRTY, part of her mystery/suspense series Don't Get Mad, all with Balzer + Bray for HarperCollins. In 2016, Gretchen will publish two novels: RELIC, a YA horror novel, with HarperCollins/EpicReads Impulse on March 8, 2016, and in the fall, I'M NOT YOUR MANIC PIXIE DREAM GIRL, her first YA contemporary, with Balzer + Bray. Gretchen also contributed an essay to the Dear Teen Me anthology from Zest Books.
Gretchen is a former coloratura soprano, the voice of Mary on G4's
Code Monkeys
and she sings with the LA-based circus troupe Cirque Berzerk. She is repped by Ginger Clark of Curtis Brown, Ltd. You can find Gretchen on
Twitter
,
Facebook
, and on her
blog
.