Every so often I will put a random list of my favorite somethings up on my blog. Feel free to
request a subject! Today's topic come from a request by Christina (Website
-

thereadingqueen.com

, Twitter -

@

kychick92

).
I am actually quite picky about my fiction
Witch books, so perhaps mine are unexpected.
So here are my favorite Witchy Witch Books -
Title: The Betrayal, The Secret, and The Burning (Fear Street Saga 1-3)
Author: R. L. Stine.
Genre: YA Horror/Paranormal
Release Date of First Book:
August 1st 1993 by Simon Pulse
(first published 1993)
Blurb of First Book:
Why do so many horrifying things happen on Fear Street? Nora knows.
She knows how the terror began. She knows about the young girl who burned at the stake--and the bloody feud between two families that caused the unspeakable horror that has lasted 300 years!
She knows, and she wants to tell.
Are you sure you want to hear it?
Wow. This brings me way back. A blast from the past, but this is what started my love for Witchy things.
Title: Harry Potter Series
Author: J.K. Rowling.
Genre: YA Fantasy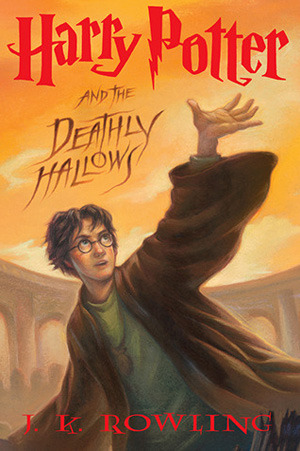 Title: The Crucible
Author: Arthur Miller
Genre: Historical Fiction
Release Date:
March 25th 2003 by Penguin Classics
(first published 1953)
Blurb:
"I believe that the reader will discover here the essential nature of one of the strangest and most awful chapters in human history," Arthur Miller wrote of his classic play about the witch-hunts and trials in seventeenth-century Salem, Massachusetts. Based on historical people and real events, Miller's drama is a searing portrait of a community engulfed by hysteria. In the rigid theocracy of Salem, rumors that women are practicing witchcraft galvanize the town's most basic fears and suspicions; and when a young girl accuses Elizabeth Proctor of being a witch, self-righteous church leaders and townspeople insist that Elizabeth be brought to trial. The ruthlessness of the prosecutors and the eagerness of neighbor to testify against neighbor brilliantly illuminate the destructive power of socially sanctioned violence.
Written in 1953,
The Crucible
is a mirror Miller uses to reflect the anti-communist hysteria inspired by Senator Joseph McCarthy's "witch-hunts" in the United States. Within the text itself, Miller contemplates the parallels, writing, "Political opposition... is given an inhumane overlay, which then justifies the abrogation of all normally applied customs of civilized behavior. A political policy is equated with moral right, and opposition to it with diabolical malevolence."
A tragic tale, but one that needs to be heard. This story not only speaks to the horrors that were committed in the past, but also can relate to certain judgement today. Although the women in this story were falsely accused, Wicca along with other religions, are persecuted if they are not of the norm. They are seen as scary or ridiculous. This book could perhaps open a few eyes.
Title: Celtic Myth and Magick
Author: Edain McCoy
Genre: Wicca/Spirituality Reference (Non-Fiction)
Release Date:
September 8th 2002 by Llewellyn Publications
(first published January 1st 1999)
Blurb:
Tap into the mythic power of the Celtic goddesses, gods, heroes, and heroines to aid your spiritual quests and magickal goals. Human and divine energies complement each other; when joined, they become a potent catalyst for true magick and change. Celtic Myth & Magick describes the energies of over 300 cross-referenced Celtic deities and heroic figures so you can quickly determine which one can best help you in attaining specific goals through magick--such as greater prosperity (Cernunnos), glowing health (Airmid), or a soul partner (Aengus MacOg). This guidebook explains how to use creative Pagan ritual and pathworking to align yourself with the energy of these powerful archetypes. Undertake three magickal quests to the inner plane--where you'll join forces with Cuchulain, Queen Maeve, and Merlin the Magician to bring their energies directly into your life. This inspiring, well-researched book is written especially for solitary Pagans who seek to expand the boundaries of their practice to form working partnerships with the divine.
Personally, I am really drawn to Celtic Goddesses and Gods. Many of the actual beginnings of Pagan ritual, spirituality, and beliefs date back to the Celts. The depictions of the Goddesses are beautiful and I love learning more about them. This book has a great reference guide to all of the Gods and Goddesses with a great about section for each. The about section includes history, magickal uses, symbolism, holy days, etc.
Title: The Lion, The Witch, and the Wardrobe
Author: C.S. Lewis
Genre: Children's Adventure
Release Date:
2005 by HarperCollins Publishers
(first published January 1st 1950)
Blurb:
When Peter, Susan, Edmund and Lucy took their first steps into the world behind the magic wardrobe, little do they realise what adventures are about to unfold. And as the story of Narnia begins to unfold, so to does a classic tale that has enchanted readers of all ages for over half a century.
This stunning version of the classic The Lion, The Witch and the Wardrobe, illustrated by Christian Burningham, comes with a special recording of the story which features a full production and specially composed music which transports the listener straight to the heart of Narnia. An absolute must for Narnia fans, and an excellent way of introducing the magical story to a new generation of readers.
Although I do know this is written by a religious author for intended purposes, I would never judge that. The story, its characters, the setting... Is all beautiful. I think the reader is just as drawn to the Witch in the beginning as the characters were.
Title: Dorothy Must Die
Author: Danielle Paige
Genre: YA Fantasy Retelling
Release Date:
April 1st 2014 by HarperCollins
Blurb:
I didn't ask for any of this. I didn't ask to be some kind of hero.

But when your whole life gets swept up by a tornado - taking you with it - you have no choice but to go along, you know?

Sure, I've read the books. I've seen the movies. I know the song about the rainbow and the happy little bluebirds. But I never expected Oz to look like this. To be a place where Good Witches can't be trusted, Wicked Witches may just be the good guys, and winged monkeys can be executed for acts of rebellion. There's still a yellow brick road - but even that's crumbling.

What happened? Dorothy.

They say she found a way to come back to Oz. They say she seized power and the power went to her head. And now no one is safe.

My name is Amy Gumm - and I'm the other girl from Kansas.

I've been recruited by the Revolutionary Order of the Wicked.

I've been trained to fight.

And I have a mission.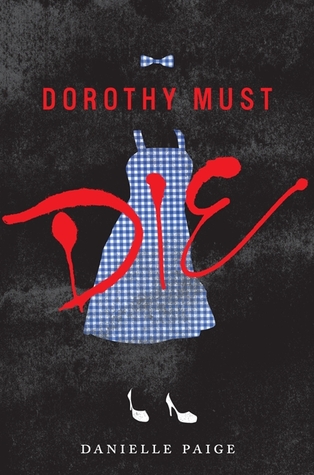 I cannot wait for the next in this series! Such an amazing retelling of an already creative world. Taking on a story that this originated from would be such a challenge. The author made the world even more awesome. Plus, I love that the Witches are sort of like exaggerations. Totally different from Wicca/Witches in real life, but I totally love it.
Title: Howl's Moving Castle
Author: Diana Wynne Jones
Genre: YA Fantasy
Release Date:
August 1st 2001 by Greenwillow Books
(first published 1986)
Blurb:
Sophie has the great misfortune of being the eldest of three daughters, destined to fail miserably should she ever leave home to seek her fate. But when she unwittingly attracts the ire of the Witch of the Waste, Sophie finds herself under a horrid spell that transforms her into an old lady. Her only chance at breaking it lies in the ever-moving castle in the hills: the Wizard Howl's castle. To untangle the enchantment, Sophie must handle the heartless Howl, strike a bargain with a fire demon, and meet the Witch of the Waste head-on. Along the way, she discovers that there's far more to Howl—and herself—than first meets the eye.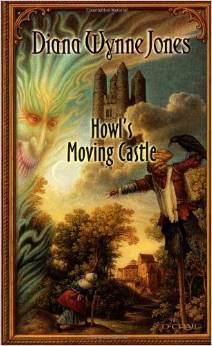 Title: Wicca- A Guide for the Solitary Practitioner
Author: Scott Cunningham
Genre: Wicca/Spirituality (Non-Fiction)
Release Date:
September 8th 2002 by Llewellyn Publications
(first published 1988)
Blurb:
Cunningham's classic introduction to Wicca is about how to live life magically, spiritually, and wholly attuned with nature. It is a book of sense and common sense, not only about magick, but about religion and one of the most critical issues of today: how to achieve the much needed and wholesome relationship with our Earth. Cunningham presents Wicca as it is today: a gentle, Earth-oriented religion dedicated to the Goddess and God. "Wicca "also includes Scott Cunningham's own Book of Shadows and updated appendices of periodicals and occult suppliers.
If you are ever curious about what Wicca exactly is, this is a PERFECT one to start with. Look for all of his other titles too! See my review HERE.
Title: City of Bones (The Mortal Instruments)
Author: Cassandra Clare
Genre: YA Paranormal/Fantasy
Release Date:
March 27th 2007 by Margaret K. McElderry Books
Blurb:
When fifteen-year-old Clary Fray heads out to the Pandemonium Club in New York City, she hardly expects to witness a murder― much less a murder committed by three teenagers covered with strange tattoos and brandishing bizarre weapons. Then the body disappears into thin air. It's hard to call the police when the murderers are invisible to everyone else and when there is nothing―not even a smear of blood―to show that a boy has died. Or was he a boy?
This is Clary's first meeting with the Shadowhunters, warriors dedicated to ridding the earth of demons. It's also her first encounter with Jace, a Shadowhunter who looks a little like an angel and acts a lot like a jerk. Within twenty-four hours Clary is pulled into Jace's world with a vengeance, when her mother disappears and Clary herself is attacked by a demon. But why would demons be interested in ordinary mundanes like Clary and her mother? And how did Clary suddenly get the Sight? The Shadowhunters would like to know...
Exotic and gritty, exhilarating and utterly gripping, Cassandra Clare's ferociously entertaining fantasy takes readers on a wild ride that they will never want to end.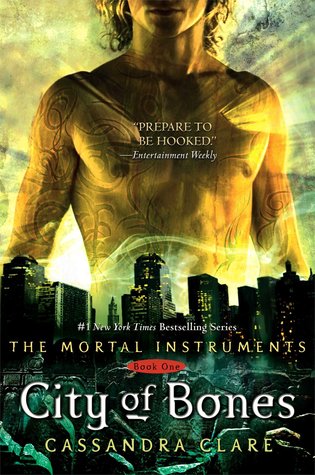 This book isn't about witches per-say, but it has some of my favorite witchy characters. Plus, SWOON. It's an awesome read. Helped me fall in love with YA.
Title: The Modern Guide to Witchcraft
Author: Skye Alexander
Genre: Wicca/Spirituality (Non-Fiction)
Release Date:
July 31st 2014 by Adams Media
(first published July 4th 2014)
Blurb:
Unlock your powers...
Looking for an enchanting love potion? Want to create your own sacred space and promote good energy? "The Modern Guide to Witchcraft" helps you harness your own inner power so you can shape your destiny.
With the help of spellcraft expert Skye Alexander, you'll tap into your own magic and create incantations, potions, and charms. As she carefully guides you through each step of these witchcraft practices and details ways of personalizing them to your specific situation, you'll gain confidence in your own knowledge and inner force.
Once you learn to harness your natural talents as a witch, you'll discover that a whole new world of possibilities exists.
Second to Scott Cunningham's book, I love this one as well. The blurb makes it sound a bit 'magical' in a fluffy way, but this book goes down to basics in a very simple way. Scott Cunningham's book may possibly go over someone's head if you have never experienced anything on the subject. But yet again, this book has great details, quotes, and spells (which I call Energy Work).
I hope you enjoyed it! Let me know what other fave's you want to see!