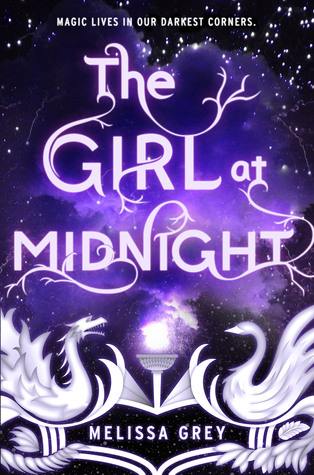 The Girl at Midnight (#1)
Teaser:
"Magic lives in our darkest corners."
Genre:
YA Paranormal Urban Fantasy
Number of pages:
Released:
April 28th, 2015 by Delacorte Press
Description:
Beneath the streets of New York City live the Avicen, an ancient race of people with feathers for hair and magic running through their veins. Age-old enchantments keep them hidden from humans. All but one. Echo is a runaway pickpocket who survives by selling stolen treasures on the black market, and the Avicen are the only family she's ever known.
Echo is clever and daring, and at times she can be brash, but above all else she's fiercely loyal. So when a centuries-old war crests on the borders of her home, she decides it's time to act.
Legend has it that there is a way to end the conflict once and for all: find the Firebird, a mythical entity believed to possess power the likes of which the world has never seen. It will be no easy task, though if life as a thief has taught Echo anything, it's how to hunt down what she wants . . . and how to take it.
But some jobs aren't as straightforward as they seem. And this one might just set the world on fire.
Positives:
-Steamy romance scenes. Always a plus for me.
-Beautiful, beautiful world. I would LOVE to see this as a film. The description of both the Avicen and Drakharin race make them sound so beautiful. Honestly, if I had to pick being one or the other, I would know which one to pick.
-Action-packed plot. It ne
ver is boring.
Negatives:
-Some have said it's an insta-romance, but I actually didn't mind it. I've seen A LOT worse. And to me, it felt realistic in the sense that they were very attracted to each other. Sometimes that brings people together.
Overview:
When I first started reading this book, I was a little skeptical. With two such imaginative races they could either end up being really stupid or really amazing. It would be very easy to write races like that fall short, causing them to feel weird or silly. Melissa Grey manages to write these races so beautifully that I WANT A MOVIE. I'd love to see some concept art about this book, so if anyone knows any!
The main character was amazing, really. She was hilarious and snarky. She was very funny to read and seemed like an honest character, meaning she had her weaknesses as well as strengths. She wasn't overly whiny and she wasn't overly confident. She was just the right amount. And her clever retorts were perfect to help her not just be a 'blah' character which can happen often in YA. Plus – diversity! There is a very sweet, romantic gay relationship that builds in this book.
The plot has a lot of action mixed with just the right amount of down time. I never felt bored or like things were going too fast. I actually finished this book in basically one sitting. I couldn't put it down. There were a few things that left me with a tad uncomfortable feeling, such as the love interest's strong connection to his former lover. It made me sometimes wonder if he sees her in Echo, the main character, and that is partly what draws him to her.
As I've said, the romance is very sexy and builds up nicely. I also like that there is more than one romance being told at once. It helps make the story not so focused on two characters. It feels more well-rounded that way and leads to a great 'world-building'. You end up feeling connected all around and not just to these two characters.
Rating:
Recommended to:
-People who love creative world building and fantasy settings.
-People who don't mind a 'tad' of insta-love that is balanced out by smexy scenes.
Not Recommended to:
-Those that think reading about newly thought up races is too silly (my sister is one of these people).
-Those who absolutely hate insta-romance in any level whatsoever.
About the Author:
Melissa Grey penned her first short story at the age of twelve and hasn't stopped writing since. As an undergrad at Yale, she learned how ride a horse and shoot a bow and arrow at the same time, but hasn't had much use for that skill since graduating in 2008.
Her debut novel, THE GIRL AT MIDNIGHT, will be published by Delacorte/Random House in spring 2015.
To learn more about Melissa, visit melissa-grey.com and follow her on Twitter @meligrey.