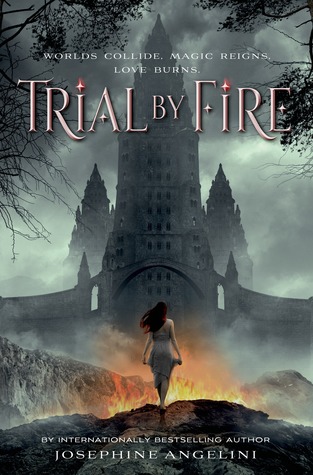 Trial by Fire (The Worldwalker Trilogy #1)
"Worlds collide. Magic reigns. Love burns."
YA Paranormal Fantasy (Witches)
September 2nd, 2014 by Feiwel & Friends
This world is trying to kill Lily Proctor. Her life-threatening allergies keep her from enjoying experiences that others in her hometown of Salem take for granted, which is why she is determined to enjoy her first high school party with her best friend and longtime crush, Tristan. But after a humiliating incident in front of half her graduating class, Lily wishes she could just disappear.
Suddenly, Lily is in a different Salem—one overrun with horrifying creatures and ruled by powerful women called Crucibles. Strongest and cruelest of them all is Lillian . . . Lily's other self in this alternate universe.
What makes Lily weak at home is what makes her extraordinary in New Salem. In this confusing world, Lily is torn between responsibilities she can't hope to shoulder alone and a love she never expected.
-In Josephine Angelini brilliance, the romance in this book is sweeping. I am hooked and can't wait for the next installment.
-Utilizing creative elements, some real-world ideas of witchcraft are also put into the lore, such as the use of herbs.
-Never a boring moment. Not ever.
-Characters you easily get to know and love.
-The Lillian/Lily thing bothered me at times when it came to the romance. I would have a hard time being in Lily's shoes.
-I wanted more Salem-y lore! Not just 'witchcraft', but perhaps the places and history behind it. When I read the location was Salem I was so excited.
I absolutely adore Josephine Angelini. I will most likely read everything she writes. Her creativity, plot, characters, and romance always seem to be spot on to keep you from being able to put down the book. The story never seems too 'typical', the plot never seems rushed or dragging on, the characters are alive in your head, and the romance develops realistically and then makes even your skin burn!
The plot of this book combines many elements that I love to see in books. Rowan, one of the main characters, takes Lily out in the wilderness and has to survive. I love rugged survival stuff like that. Honestly, it is a good way to have the romance and relationship develop between the two characters realistically, because anyone in that situation would have a hard time not depending on that other person. The plot itself surprised me in many places, and left me feeling like I should cover my eyes in others. This book, needless to say, is very steamy.
The characters – what can I say? I would fall in love with Rowan so easily. I love the diversity in this book as well. The Native American culture behind the Outlanders, the introduction of a gay character, and the use of witchcraft. There are scenes between the characters that I could go back and read over and over again, each time getting that rush. Each character has something that makes you adore or hate them, making it easy to feel a connection.
There is not much to say about the romance in this book other than – HOLY HELL. It is sexy and makes you feel good and bad at the same time. I can't wait to see what is next for them.
-Any readers of Josephine Angelini.
-Those who want a steamy romance.
-Those who like witchy books!
-Those that perhaps don't want to read YA fiction that is a little risqué at times.